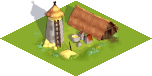 The Storehouse increases the resource capacity in a settlement, available as an Ancient Age building. This structure adds no population to the city it's located.
This building is soon replaced by a Warehouse in the Classical Age.
Unadjusted, each current storehouse stores resource equal to the storage rating (box icon) for each resource, but this can be redistributed to other resources. Effectively, the total storage is now all adjustable and equal to four times the storage shown at the icon.
The storehouse once allowed the player to protect their resources from barbarian attacks. The higher the level of your storehouse, the more resources one could protect.
A storehouse once had fixed storage proportional to its level; a level 3 will had 3000 variable storage space. The player decides to set it to 1000 food, 1000 wood, 1000 stone, 0 iron. However, it also had 1500 constant space for each resource, so the total amount of storage gained from the warehouse would have been 2500 food, 2500 wood, 2500 stone, 1500 iron.
 Level 
Cost
  
  
  
  
  
  
  
  
 1 (Ancient) 
 - 
 375 
 375 
 - 
 - 
 - 
 - 
 0:01:00 
 2 (Ancient) 
 250 
 1000 
 1000 
 - 
 - 
 - 
 - 
 0:22:43 
 3 (Ancient) 
 750 
 2250 
 2250 
 - 
 - 
 - 
 - 
 1:44:20 
Ad blocker interference detected!
Wikia is a free-to-use site that makes money from advertising. We have a modified experience for viewers using ad blockers

Wikia is not accessible if you've made further modifications. Remove the custom ad blocker rule(s) and the page will load as expected.