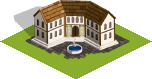 Your Research is supported by the centres of Research throughout your Empire, and each Research structure (such as a Library) contributes to your Research goals.
Libraries are where you conduct Research which enables one to discover new technologies in the earlier ages of the game. It is automatically researched at the start of the game. It can be upgraded to a University in the Renaissance Age. As your libraries increase, your research topics are not affected, but researched quicker (except Library Upgrade topics, which specifically require an upgraded library).
Researching
Edit
Each Research topic has prerequisite topics, as well as an effort and gold cost. The Gold cost is fixed and does not normally change. The Effort determines the time the Research will take, and is affected by factors such as the number and level of your Empire's Research structures.
Things that affect research speed:
number of libraries in your empire (including Plato's Academy and Wonders - it is unknown how they integrate into the updated system)
Mechanics
Edit
It is believed that research follows the following mechanism:
Every research building (library, university) produces a certain number of "research points" per unit of time. This number of research poits is proportional to the level of the research structure (so a library level 6 produces twice as many research points as a library level 3 for example). Note, Prometheus Upgrades are roughly equal to the next age's structure in speed, and so only one should be produced until a level 2 library is available and should not be upgraded.
Every research requires a certain number of research points to be finished.
When researching, the research points produced by all the research structures in every settlement all go towards the thing to be researched. This continues to accumulate research points until it has the right amount, at which point the research finishes.
The timer predicts the time it should take if no research structure is modified during that time. If a research structure is modified, previously accumulated research points are kept, but the speed the next ones come in is going to be different.
When not researching, or when cancelling a research, all research points are lost.
The original library had a level limit of 10, upgrading to the University. This may still occur in the Industrial Age.
 Level 
Cost
  
  
  
  
  
  
  
  
 1 (Ancient) 
 120 
 140 
 110 
 - 
 - 
 - 
 - 
 0:00:34 
 2 (Ancient) 
 500 
 1500 
 1500 
 - 
 - 
 - 
 - 
 0:27:16 
 3 (Ancient) 
 1000 
 3000 
 3000 
 - 
 - 
 - 
 - 
 2:43:38 
 1 (Classical) 
 2880 
 11,520 
 11,520 
 5760 
 - 
 - 
 - 
 2:00:00 
 2 (Classical) 
 5760 
 23,040 
 23,040 
 23,040 
 - 
 - 
 - 
 8:00:00 
 3 (Classical) 
 5760 
 23,040 
 23,040 
 23,040 
 - 
 - 
 - 
 12:00:00 
 4 (Classical) 
 2880 
 11,520 
 11,520 
 11,520 
 - 
 - 
 - 
 3:30:00 
 1 (Feudal) 
 8160 
 32,640 
 32,640 
 32,640 
 - 
 - 
 - 
 4:00:00 
 2 (Feudal) 
 16,320 
 65,280 
 65,280 
 65,280 
 - 
 - 
 - 
 8:00:00 
 3 (Feudal) 
 16,320 
 65,280 
 65,280 
 65,280 
 - 
 - 
 - 
 12:00:00 
 4 (Feudal) 
 8160 
 32,640 
 32,640 
 32,640 
 - 
 - 
 - 
 4:00:00 
 1 (Renaissance) 
 16,560 
 66,240 
 66,240 
 66,240 
 - 
 - 
 - 
 4:00:00 
 2 (Renaissance) 
 16,560 
 66,240 
 66,240 
 66,240 
 - 
 - 
 - 
 8:00:00 
 3 (Renaissance) 
 24,840 
 99,360 
 99,360 
 99,360 
 - 
 - 
 - 
 12:00:00 
 4 (Renaissance) 
 24,840 
 99,360 
 99,360 
 99,360 
 - 
 - 
 - 
 24:00:00 
 5 (Renaissance) 
 16,560 
 66,240 
 66,240 
 66,240 
 - 
 - 
 - 
 4:00:00 
 1 (Imperial) 
 28,800 
 - 
 115,200 
 115,200 
 115,200 
 - 
 - 
 4:00:00 
 2 (Imperial) 
 28,800 
 - 
 115,200 
 115,200 
 115,200 
 - 
 - 
 8:00:00 
 3 (Imperial) 
 43,200 
 - 
 172,800 
 172,800 
 172,800 
 - 
 - 
 12:00:00 
 4 (Imperial) 
 43,200 
 - 
 172,800 
 172,800 
 172,800 
 - 
 - 
 24:00:00 
 5 (Imperial) 
 28,800 
 - 
 115,200 
 115,200 
 115,200 
 - 
 - 
 4:00:00 
 6 (Imperial) 
 28,800 
 - 
 115,200 
 115,200 
 115,200 
 - 
 - 
 4:00:00 
 1 (Industrial) 
 57,600 
 - 
 - 
 230,400 
 230,400 
 230,400 
 - 
 4:00:00 
 2 (Industrial) 
 57,600 
 - 
 - 
 230,400 
 230,400 
 230,400 
 - 
 8:00:00 
 3 (Industrial) 
 86,400 
 - 
 - 
 345,600 
 345,600 
 345,600 
 - 
 12:00:00 
 4 (Industrial) 
 86,400 
 - 
 - 
 345,600 
 345,600 
 345,600 
 - 
 24:00:00 
 5 (Industrial) 
 57,600 
 - 
 - 
 230,400 
 230,400 
 230,400 
 - 
 4:00:00