A new server, a fresh cycle - and iPods to win!
Calling all
8Realms
fans!
Hot on the heels of Augustus, we're proud to announce another new server on a fresh cycle. Launching on Friday, Alexander will provide another chance for you to make your mark on 8Realms. And to celebrate, there are fourth-generation iPod touches to be won EVERY DAY!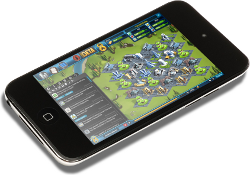 That's right, we have an iPod up for grabs every day from Friday 22 July to Wednesday 17 August - and to be in with a chance to win, all you have to do is log in and play. Just think: with an iPod touch in your pocket, you need never be without 8Realms again. ;-) (View competition FAQs and T&Cs)
You'll need a new Closed Beta key to make your mark on the new server - request your key today!
And once again, thanks to all our Closed Beta testers for helping us make 8Realms the best game it can be. :-)
Gabriel
8Realms Wordsmith
Ad blocker interference detected!
Wikia is a free-to-use site that makes money from advertising. We have a modified experience for viewers using ad blockers

Wikia is not accessible if you've made further modifications. Remove the custom ad blocker rule(s) and the page will load as expected.